Boys (11 - 18)
Girls (11 - 18)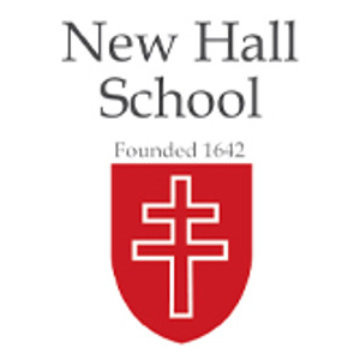 New Hall School is an independent boarding and day school for boys and girls aged 3 - 18. The school operates the distinctive 'Diamond Model', with boys and girls educated in single-sex classes in the Senior School and co-educationally at Sixth Form. We believe that New Hall offers an education of real quality and gives students the best start in life.
About the school
New Hall School is unusually vibrant and forward-thinking. We are proud of our rich history and the tradition of academic excellence combined with outstanding pastoral care. We aim to educate the whole person: academically, creatively and socially, in a community which also nurtures the spiritual dimensions of human life. We know that your experience in your school days is a powerful influence on future success, in your chosen career and on your personal relationships. New Hall offers a distinctive education of real quality that is designed to give students the best start in life.
The Diamond Model
At New Hall we operate a highly successful 'diamond model' structure, i.e. co-education in the Preparatory School (ages 3-11), single-sex education in the Boys' Division and Girls' Division (11-16) and co-education in the Sixth Form (16-18). In this way, New Hall provides the best of both worlds: the benefits of a co-educational environment together with the advantages of girls and boys being taught separately at Key Stages 3 and 4. The provision of single-sex education during formative years enables students to grow in confidence, whilst enjoying an education that is specifically tailored and that recognises the different ways in which boys and girls learn.
Boarding
At New Hall students can board from age 7-18 in one of our purpose-built boarding houses. Our dedicated boarding staff are committed to providing a happy, settled and secure family environment for every child. Depending on their year group, students can choose to be a full, weekly or flexi-boarder.
Most Able & Talented students
New Hall has its own Most Able & Talented programme, which is proven to bring exceptional value added at GCSE and A Level. We believe that giftedness can be created and that students' academic skills can be developed at ever higher levels if they are given intellectual challenges and opportunities to 'think out of the box'.
Facilities
The school has exceptional sporting facilities including a national standard athletics track, floodlit Astroturf pitch, fitness suite, 10 floodlit tennis and netball courts, cricket and rugby pitches and a 25m indoor swimming pool. A dedicated team of staff, which includes sports professional Nasser Hussain, former England Cricket Captain, are committed to providing exceptional training. Many of our students go on to represent the county, with some going onto regional, national and international representative honours.
The Walkfares Performing Arts Centre provides state-of-the-art rehearsal spaces for Drama, dance studios, music practise rooms and recording studios for students to develop their talents. Music has a long and fine tradition at New Hall, with a variety of orchestral, choral and other music groups available for students to join.
Aside from its academic excellence and exceptional facilities the way of life at New Hall is unique. It may only be 30 minutes from London, but it seems a million miles away – with the school situated in one of King Henry VIII's former Royal Palaces and surrounded by historic park and gardens, what are you waiting for?
Read more
Read less
Key Facts
Boys' Boarding: 92 (11 to 18)
Girls' Boarding: 95 (11 to 18)
Total Pupils: 806 (220 in Sixth Form)
Admissions Process
The principles relied on in the selection of students for admission are designed to ensure the school will remain a Catholic school. Applications for admission will be considered from parents and guardians who are in sympathy with the aims and ethos of the school and whose child will benefit from the academic curriculum of the school.
1. The school is selective and offers are made based on entrance assessments, interview and current Headteacher's report/reference. See point 2 for Sixth Form entry criteria. The main entry points to the school are:
Pre-Reception (age 3+ i.e. the academic year in which a child has his/her 4th birthday)
Years 3-6 (ages 7-10+) for junior weekly and full boarders only (reserved Preparatory School places)
Year 7 (age 11+)
Year 9 (age 13+)
Year 12 (age 16+)
Places are reserved in the Senior School for 13+ entry and separate scholarships are available at 13+, in order to provide for students transferring from preparatory schools that have provision up to 13+. Applicants from pupils who attend preparatory schools which make provision allowing them to continue their education up to 13+, and which are not part of a structure which connects them to a particular senior school, will only be accepted (subject to the other relevant criteria set out in this policy) for Year 9 entry. The assessments may be sat in Year 8, or earlier in Year 6 if preferred, and any offer made will be for a place at the start of Year 9.
2. Priority for entry to the Sixth Form is given to Year 11 in New Hall's Boys' and Girls' Divisions, who are interviewed in the Michaelmas Term of Year 11 by the Principal or Head of Sixth Form. Students must meet the minimum entry requirement of 2As and 4Bs at GCSE; some subjects require a minimum of an A grade at GCSE in order to take the subject at A Level (see the Sixth Form Subject Information booklet for details).
In addition, students must have a satisfactory behaviour and work record, as confirmed by the Head of Girls' and Boys' Divisions/Director of Boarding and Deputy Principal. A number of places are available for external candidates, with offers made during Year 11, subject to GCSE grades, interview and school report from the current Headteacher.
3. All students admitted to the school, and their parents/guardians, are expected to be supportive of the Catholic ethos of the school. Listed below are the various priority categories for places (subject to entry assessments) although there is no fixed weighting or ranking in relation to each other:
Boarders (Years 3-13), with full or weekly boarders prioritised ahead of flexi-boarders
Academic ability
Religious commitment (see point 3 below)
Siblings of current New Hall students or siblings joining simultaneously
Pupils from New Hall Preparatory School applying for Year 7 entry
Pupils from New Hall's sponsored academy, Messing Primary School, applying for Year 7 entry. It is normally the case that priority for a place or award increases with the number of above criteria that are met by a candidate.
4. In so far as selection for a place, bursary or scholarship is based on religious criteria, the following order would apply:
4.1 Catholic baptised children of practising Catholic families
4.2 Children of Catholic families
4.3 Children of other Christian denominations who are practising their faith In the event that Catholicity is a deciding factor for admission to the school, or for the award of a scholarship or bursary, this will be verified by completion of the priest's reference form
5. The offer of bursaries, scholarships and awards shall be made in accordance with the current policy, which is reviewed termly.
6. The following criteria (in no particular order) will be borne in mind when considering any applicant:
Can the school meet the educational needs of the child within the context of the resources available?
Are the parents in sympathy with the aims and ethos of the school - as expressed in the curriculum, the co-curricular activities provided and the religious values at the heart of the school?
Does it appear that the child will be happy at New Hall?
7. Where waiting lists operate for places into a particular year group, the admissions criteria above will apply when selecting a child, should a vacancy occur.
8. The assessment process will normally include, for example, a trial session, interview, entrance examinations and a report/reference from the current Headteacher, as appropriate to the age of entry. The Principal/Head of the Preparatory Division, or another member of the Senior Leadership Team, will normally meet with parents for an interview prior to their child being assessed for entry to the school.
Key Facts
Boys' Boarding: 92 (11 to 18)
Girls' Boarding: 95 (11 to 18)
Total Pupils: 806 (220 in Sixth Form)