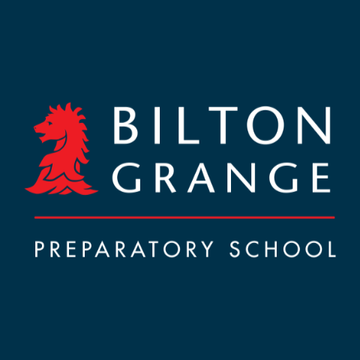 Bilton Grange is one of the UK's leading day and boarding prep schools, with over 300 boys and girls from aged 4-13. Within a stunning Pugin mansion, surrounded by over 90 acres of woods and parkland, the school is conveniently located near motorways and Rugby station (50 minutes to London). Last year nearly 50% of our Year Eight pupils won scholarships and awards to top senior schools including Rugby, Oakham and Oundle.
About the school
At Bilton Grange, a happy school with happy children awaits you
At the end of the Bilton Grange drive, a warm welcome from a happy school with happy children awaits you.
Our Pugin architecture, our ninety acres of heritage parkland and our incredible facilities are the perfect theatre of dreams for children to be enthusiastic, energised and inquisitive learners and, in amongst all the fun and bustle of life in a rural prep school, serious work also gets done.
With the best specialist teachers, amazing facilities and some of the smallest class sizes in the area, BG is where children truly fulfil their potential, grow their confidence and unlock their talents: our broad curriculum allows us to inspire our pupils and instil in them outstanding learning habits at an early age. Design Technology and Science are taught by specialists in fully-equipped labs. Top musicians provide specialist tuition and children can take part in a range of choirs and instrumental ensembles as well as drama productions in our fully equipped theatre. Swimming is taught in our own 25m indoor pool; Mandarin and Japanese are taught by native speaking teachers. Children engage in further sports like horse riding and golf (we have our own course!) as well as adventurous training like Cubs, Scouts, Brownies, Guides in our woodlands and beyond.
But Bilton Grange is more than just a school, it is a vibrant community. Parents pop in and out, walking their dogs around the grounds, supporting our sports matches, enjoying coffee in the conservatory and a bacon roll or afternoon tea in the gallery. With space to play and room to learn, children enjoy the best education and an idyllic childhood at Bilton Grange.
Come and visit and find out more. Call 01788 818246 for further information or visit www.biltongrange.co.uk
Read more
Read less
Key Facts
Day Fees: £3170 to £6115/term
Boarding Fees: £7730/term
Fees Information
2015 fees range from £3170 / term in Reception to £6115 / term in Year 8.
Weekly boarding fees are £7730 / term and full boarding is £8330 / term
Read more
Read less
Key Facts
Day Fees: £3170 to £6115/term
Boarding Fees: £7730/term